Maisha Poa Program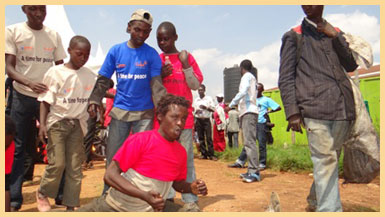 Maisha Poa program was established in 2006 to address the issues of children living in the streets of Kawangware. The program was part of FGCK Street Children Project, started in 2001 to address same issues and to empower full gospel churches in Kenya to intervene in the issues of OVC. The project was started through the vision of the church and Sami and Paula Konttinen, missionaries from Finland.
Today, Maisha Poa provides hope to children and families in Kawangware and Dagoretti in the following ways:
Rescue, rehabilitation and reintegration of children living in the streets
Psychosocial support through counseling, family assistance etc
Education sponsorship through school fees, school uniforms, books and life skills
Vocational and skills training to youth and children
Adult literacy program in partnership with the Ministry of Education.
Support for families through social and economic empowerment. This includes micro lending, small business start up support and gifts production.
Others include capacity building, trainings
Other activities include advocacy on child rights, establishment of community based children clubs etc
As part of self sustainability, the program runs conference services and office rentals. Maisha Poa is located in Kawangware, off Naivasha Road, behind Dagoretti DC's office.